Nature's canvas is painted with a myriad of breathtaking creatures, each possessing a unique charm that captivates the heart. Among these, the Rose-Breasted Grosbeak (Pheucticus ludovicianus) stands as a true testament to elegance and beauty in the avian world.
The Rose-Breasted Grosbeak, a migratory songbird found across North America, is a sight to behold with its striking and enchanting appearance. The male of the species is a masterwork of contrasts: a rich, jet-black head and wings serve as the backdrop for a mesmerizing splash of vibrant rose-red that extends from its throat to its upper breast. This eye-catching feature gives the bird its name and immediately sets it apart from its feathered counterparts. Its jet-black plumage extends down its back, creating a harmonious contrast with the white underbelly. As the sunlight dances upon its feathers, it's as if the bird itself is adorned with precious gems.
The Rose-Breasted Grosbeak's beak is robust and conical, designed perfectly for its omnivorous diet. This adaptable eater enjoys a variety of foods, including seeds, fruits, and insects, making it a valuable player in maintaining the ecological balance of its habitat.
While the male Rose-Breasted Grosbeak is a vision of vibrant contrasts, the female possesses her own understated charm. Her plumage boasts a mix of warm browns and soft streaks, allowing her to blend seamlessly with her surroundings as she diligently tends to her nest and nurtures her young.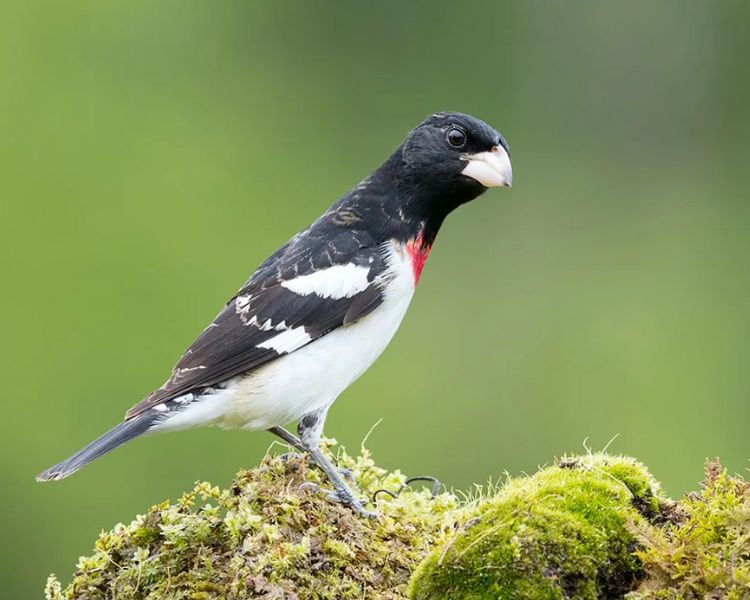 Beyond its physical beauty, the Rose-Breasted Grosbeak's song adds another layer of enchantment to its presence. The male's melodic and complex song fills the air with a medley of rich notes, a harmonious symphony that echoes through the trees and woodlands. It's a song that encapsulates the spirit of the spring and summer seasons, a reminder of the vibrant life that flourishes during these months.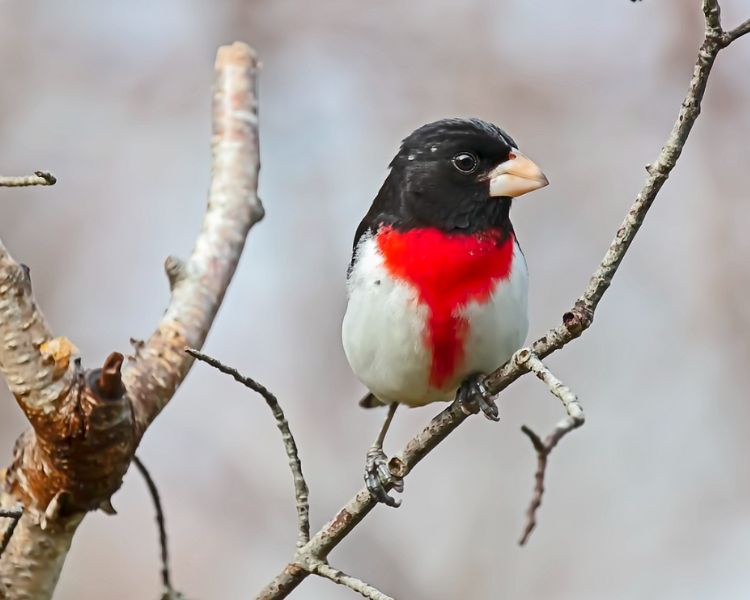 As we venture into the realm of nature, the Rose-Breasted Grosbeak stands as a reminder that beauty comes in myriad forms. Its distinctive appearance and captivating song are an invitation to pause, appreciate, and connect with the wondrous diversity that surrounds us. Whether perched among the branches or serenading the dawn, the Rose-Breasted Grosbeak graces us with its presence and enriches our lives with its exquisite beauty.